U bend tube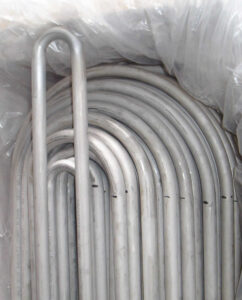 U-bend tube is widely used in heat-exchanger systems. U Bend Tubes for Heat Exchangers applied mostly in oil & gas plants, chemical & petrochemical plants, refineries, power plants, renewable energy plants.
U bending tube standard and materials:
ASTM A179/ ASME SA179
ASTM A213/ ASME SA 213, T11, T22, T22, T5
ASTM A213/ ASME SA213, TP304/304L, TP316/316L, S31803, S32205, S32750, S32760, TP410
ASTM B111, C44300, C68700, C70600, C71500
ASTM B338, GR.1, GR.2
Monel Alloys
Nickel Alloys
ASTM A179/A179M, ASME SA179/SA179M is the standard applicable to Seamless cold drawn low carbon steel heat exchanger and condenser tubes.
Read More